Description
Manufacturer's Description
The Samsung Q6FN QLED 4K Ultra HD Smart TV features Samsung's proprietary QLED technology, where the Q stands for "Quantum Dot". So take your picture resolution to new heights with QLED and its capability of producing nearly a billion colors. Colors are not lost when viewing from a non ideal angle, making any seat feel like you're sitting in the front row.
You can experience a UHD picture paired with 4K video that will look stunning on this one-of-a-kind Samsung TV. The aesthetic appearance alone will impress and naturally draw one into a viewing field of its exquisite display. Plus, a new Smart TV user interface and a smart remote with Bixby Voice Control allows you to find shows and movies easily.
A billion reasons to step into the world of QLED
2018 QLED TV. See nothing else.
The eye will savor the 2018 Q6. Welcome to the prestigious QLED lineup that tantalizes your vision with 1 billion+ shades of Q Color™ while Ambient Mode™ alters the screen into a spectacular visual display.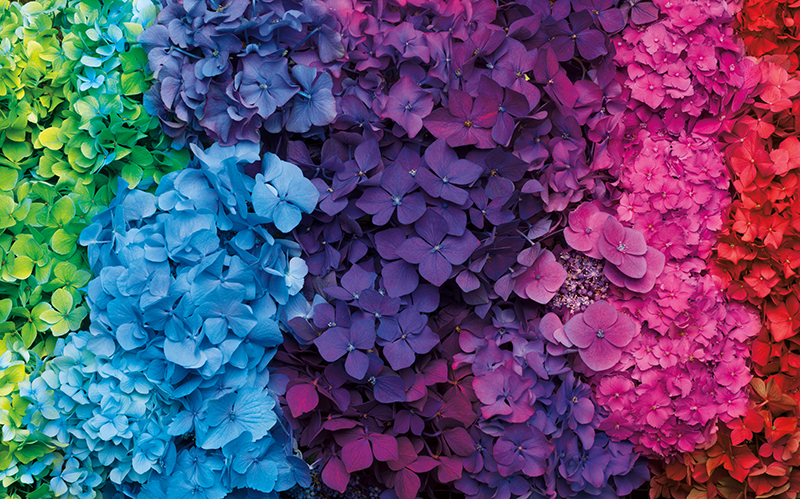 See the world in a billion colors
Q Color
Push the boundaries of color with Quantum Dots and a billion shades, reserved for our flagship QLED TVs.
Pump up the color
100% Color Volume
The secret behind color is it may fade in bright scenes; QLED TVs with 100% Color Volume rejuvenate color in challenging content for a brilliant visual experience.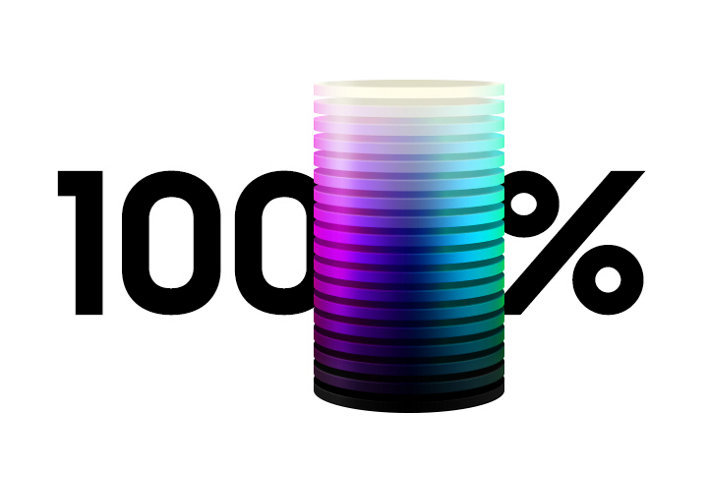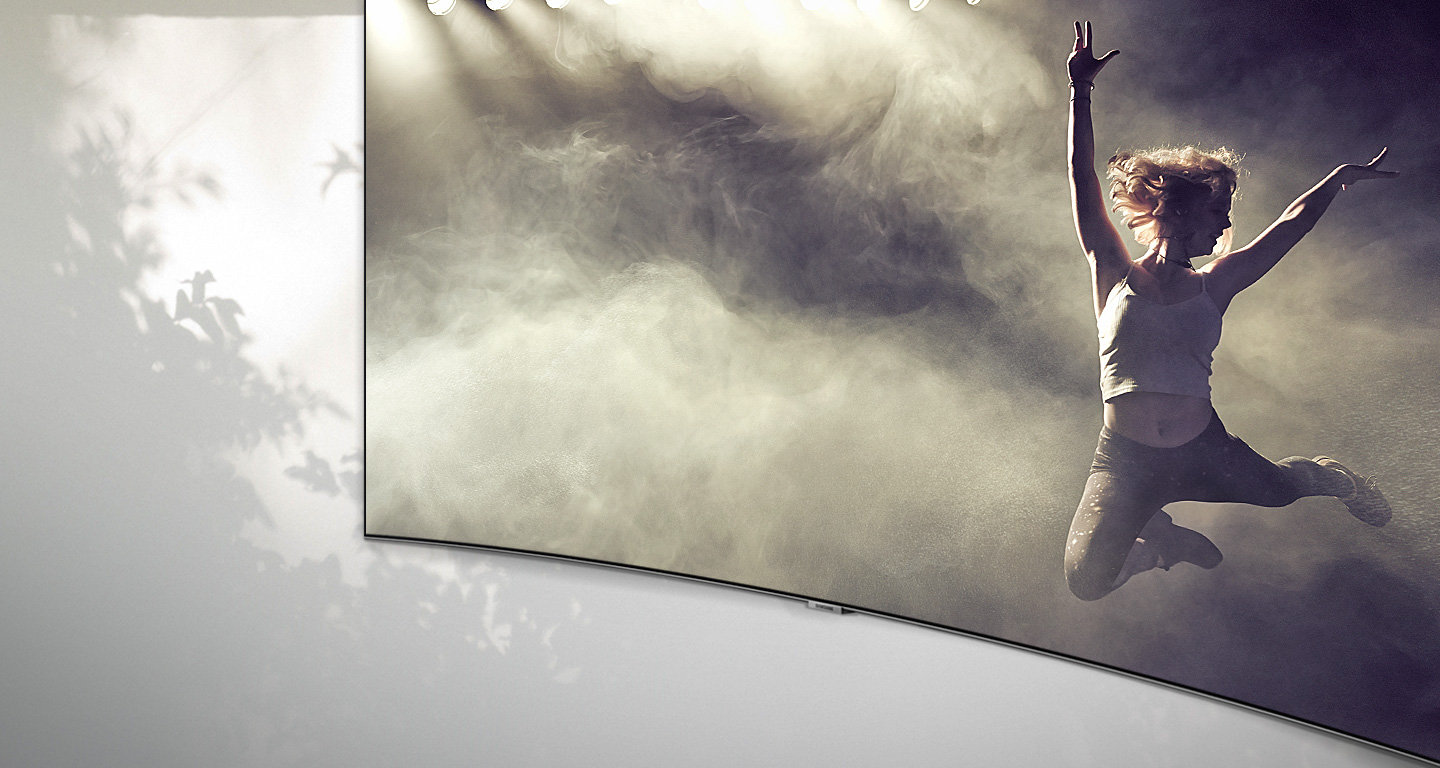 Amazing contrast
Q Contrast™
Experience dramatic depth from the darkest to brightest scenes.
Experience beautiful HDR
Q HDR™
See colors in movies and shows pop, just as the director intended, in stunning high dynamic range.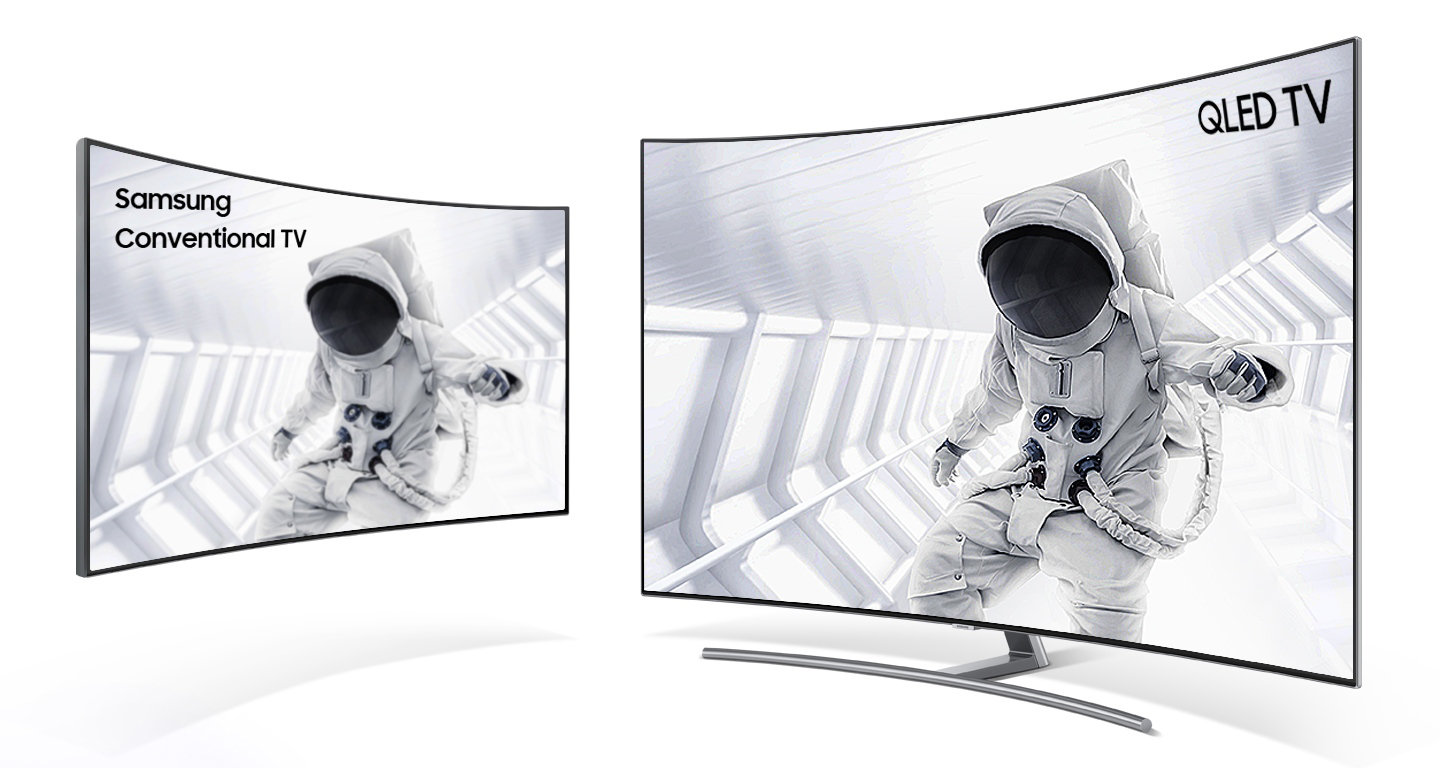 4x the resolution. 4x the clarity.
QLED TVs meet the highest 4K Ultra High-Definition standards as defined by the Consumer Electronics Association (CEA).
Engineered to last
As some TVs age, you may see that colors are less vibrant. QLED TVs are built to last and provide a vibrant picture even after long periods of time. Our metal alloy quantum dot pixels feature inorganic materials that are engineered for durability and resistance to fading.
What is Burn-in?
Burn-in is when station logos, stock tickers, or other images linger on your screen. But, with Samsung QLED TVs you don't have to worry because all QLED TVs are 100% guaranteed against burn-in.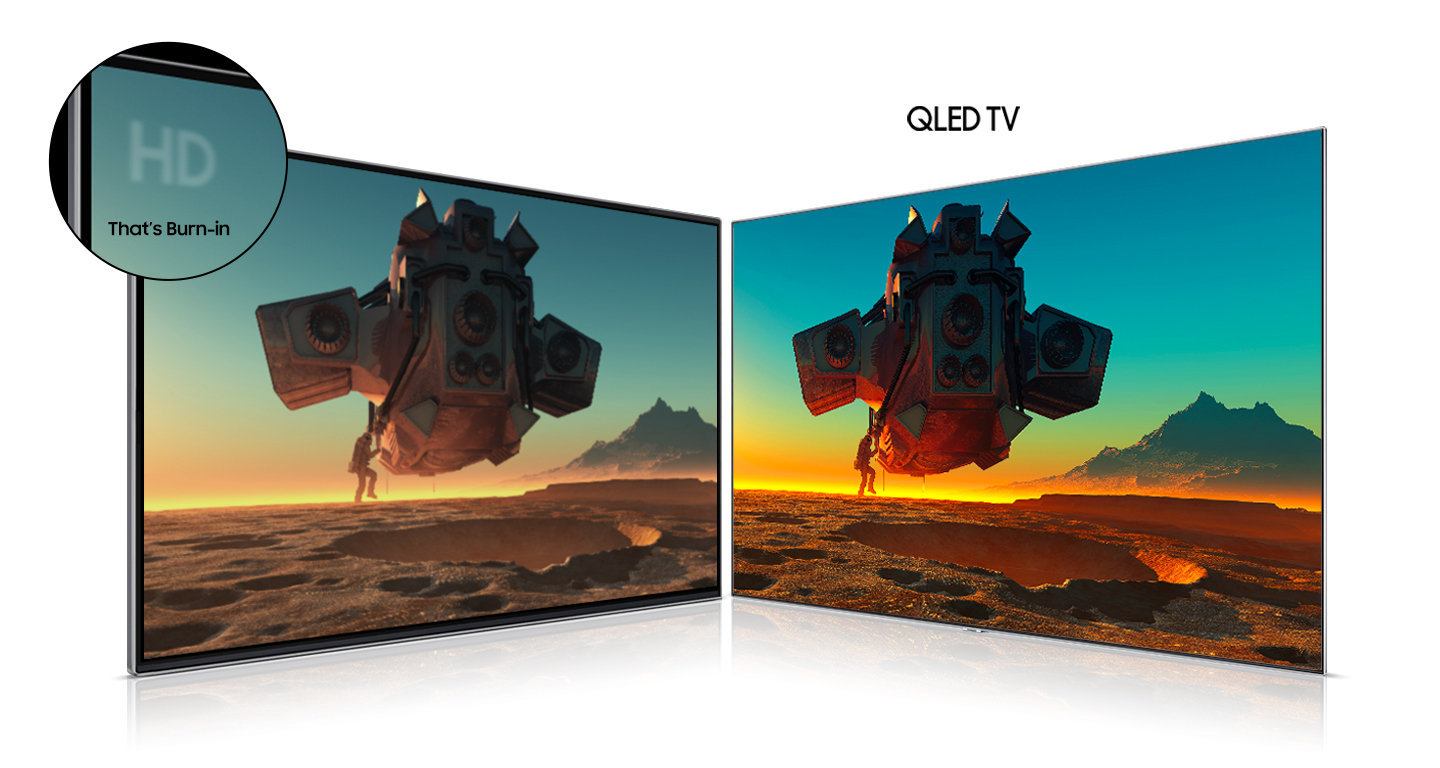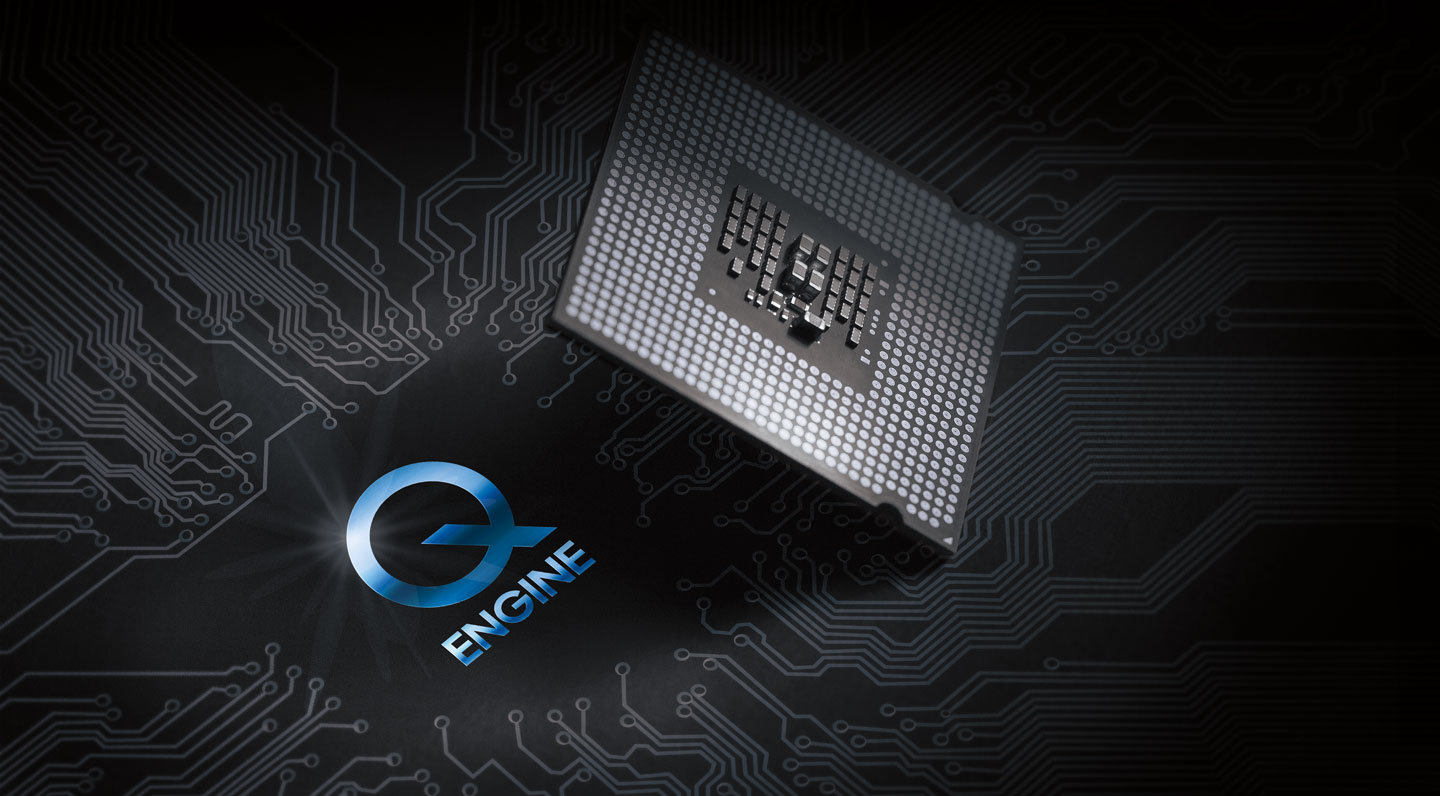 Powerful processing for spectacular picture
Q Engine™
Heighten your view with a powerful processor that optimizes your content for 4K clarity, color and HDR.
Incredibly fluid motion
Enjoy smooth, crisp action even in the fastest scenes with Motion Rate 240.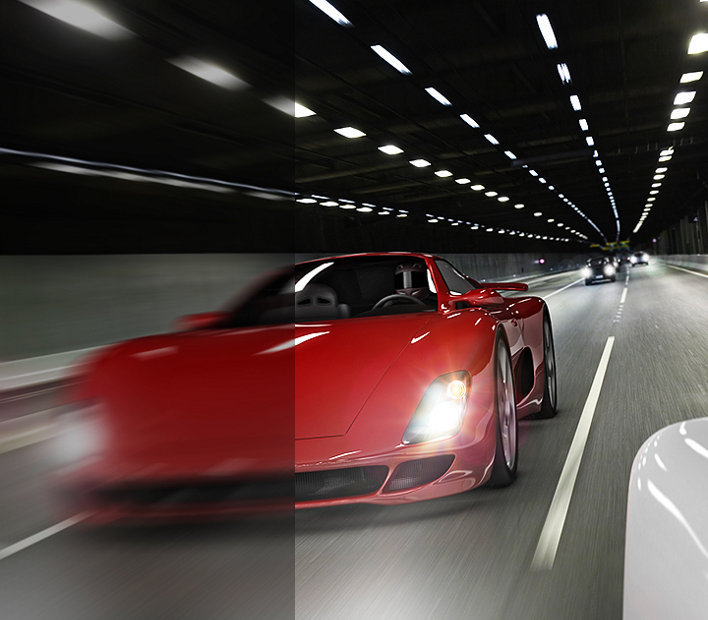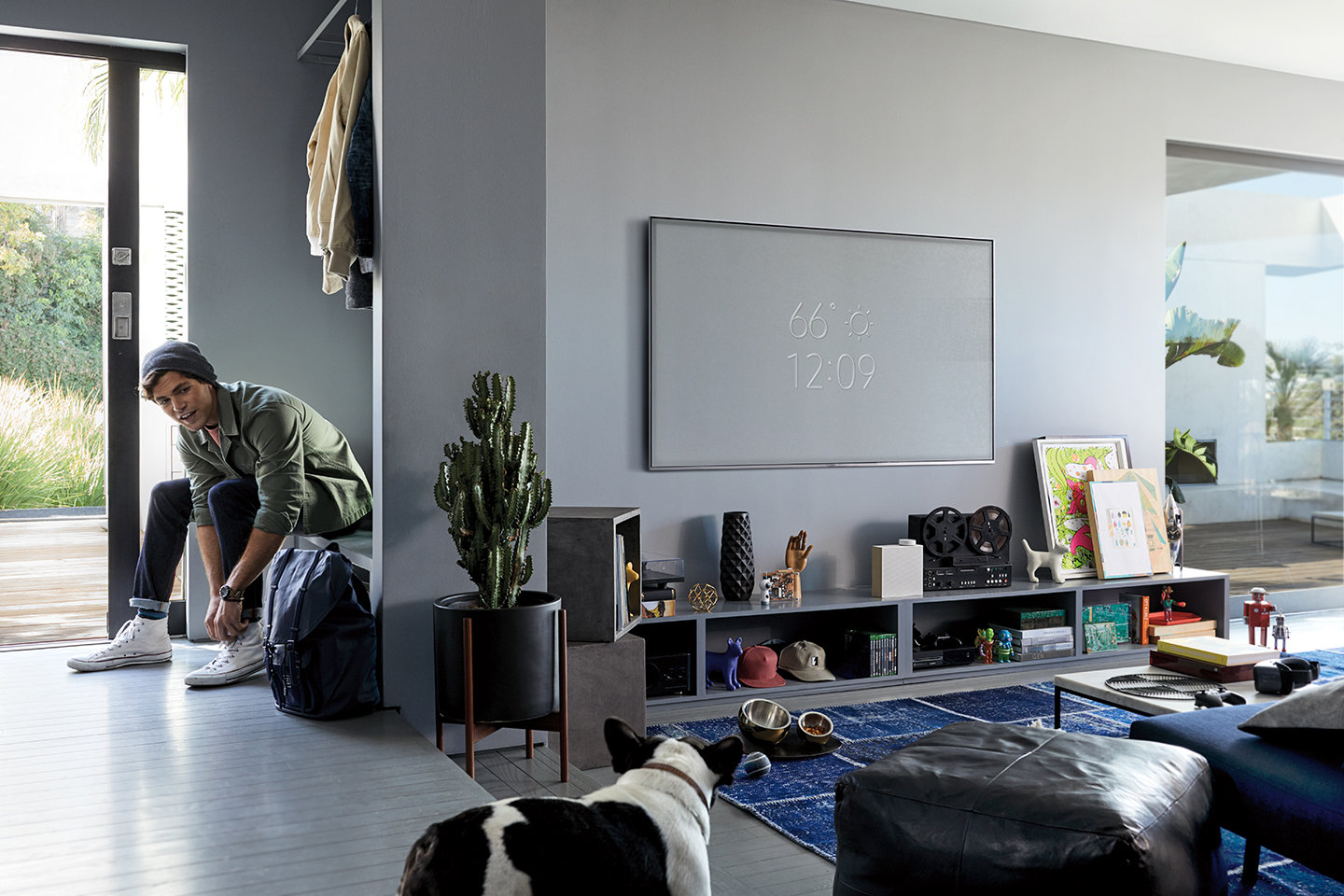 Amazing picture with minimal clutter
Q Style™
A thoughtful design with a Clean Cable Solution® allows you to focus on a TV without the clutter.
Keep cords tidy
Clean Cable Solution®
Neatly manages cords for a crisp, clean look for no distractions from the picture on the Q6F. It only takes three simple steps.
Step 1. Plug in your cables.

Step 2. Push your cables into the embedded cable lines on the back.

Step 3. Neatly organize your cables through the TV stand.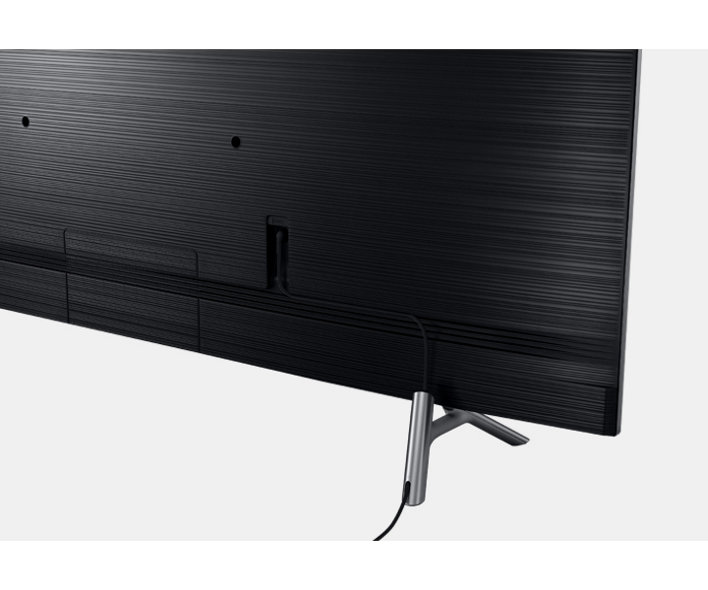 Disappearing act
Ambient Mode
With our new Ambient Mode, you can elevate your living room with decorative content, useful information and your own photos. You won't notice the TV on the wall as it blends perfectly with your décor, and it can even play a bit of light background music.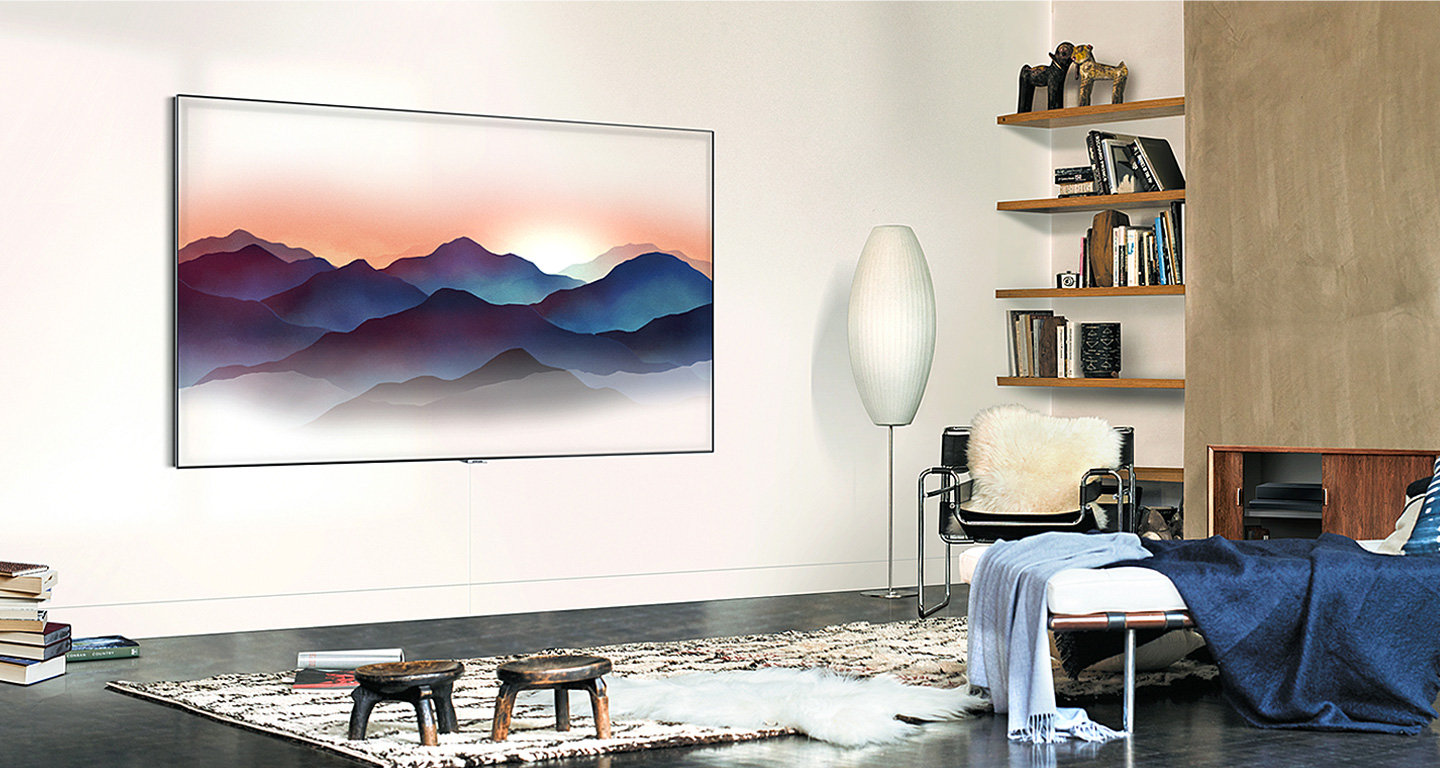 Decor – Elevate your room
You can also elevate your living room by applying decorative content that blends beautifully with the space around the TV.
Information Hub – The world at your fingertips
Get useful information such as weather, outdoor temperature and major headlines displayed on the screen.
Personal Photos – Relive your memories
Relive all your memories. Turn your living room into a personal gallery by displaying photos from your mobile device or the Samsung Cloud.
Play Music – Set the mood
Use your TV to set the mood. Find your favorite tracks or playlists with Bixby's intelligent voice command or use Bluetooth to play music from your phone.
Picture unleashed
360° Design™
With virtually no bezel on three sides, the sleek, clean design looks attractive from any angle.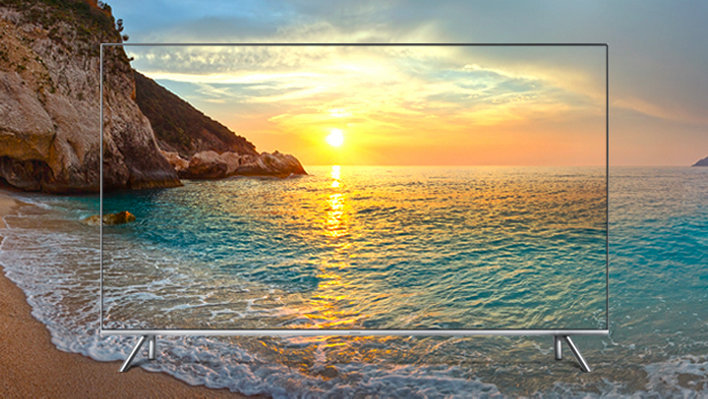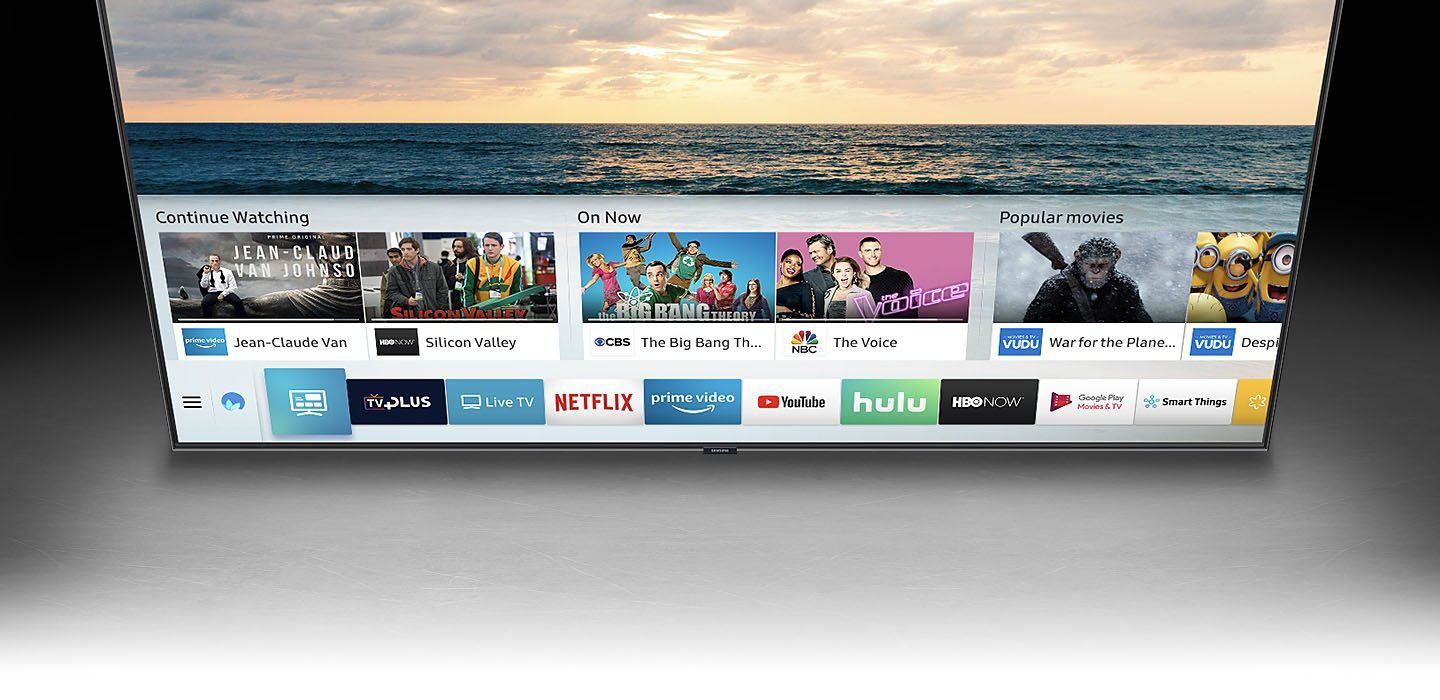 Spend time watching, not searching.
Seamless and effortless. A revolutionary way to help find streaming and live TV shows with a universal guide, OneRemote and voice assistance.
Bixby. A more intelligent way to enjoy TV.
Smart TV with Bixby Voice
Meet Bixby, your intelligent voice assistant in your new 2018 QLED TV. Bixby makes it easy to search for content, flip channels, or even ask questions such as the current weather using only your voice. Just click voice recognition on your remote or mobile, and Bixby is at your command.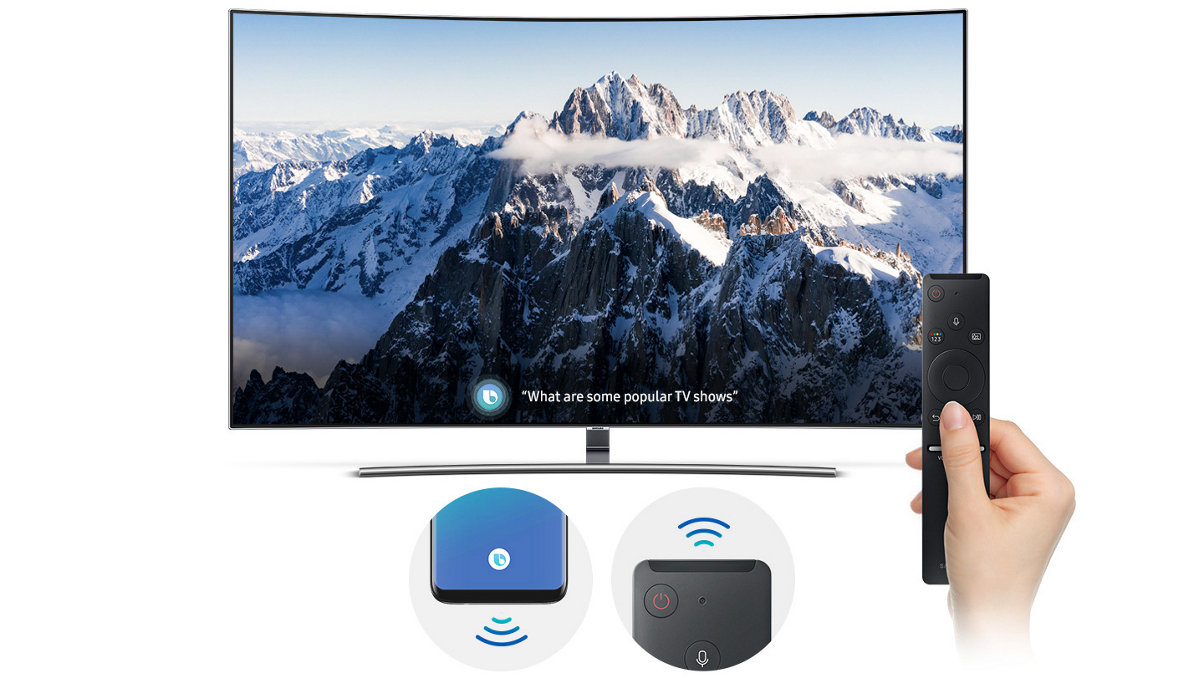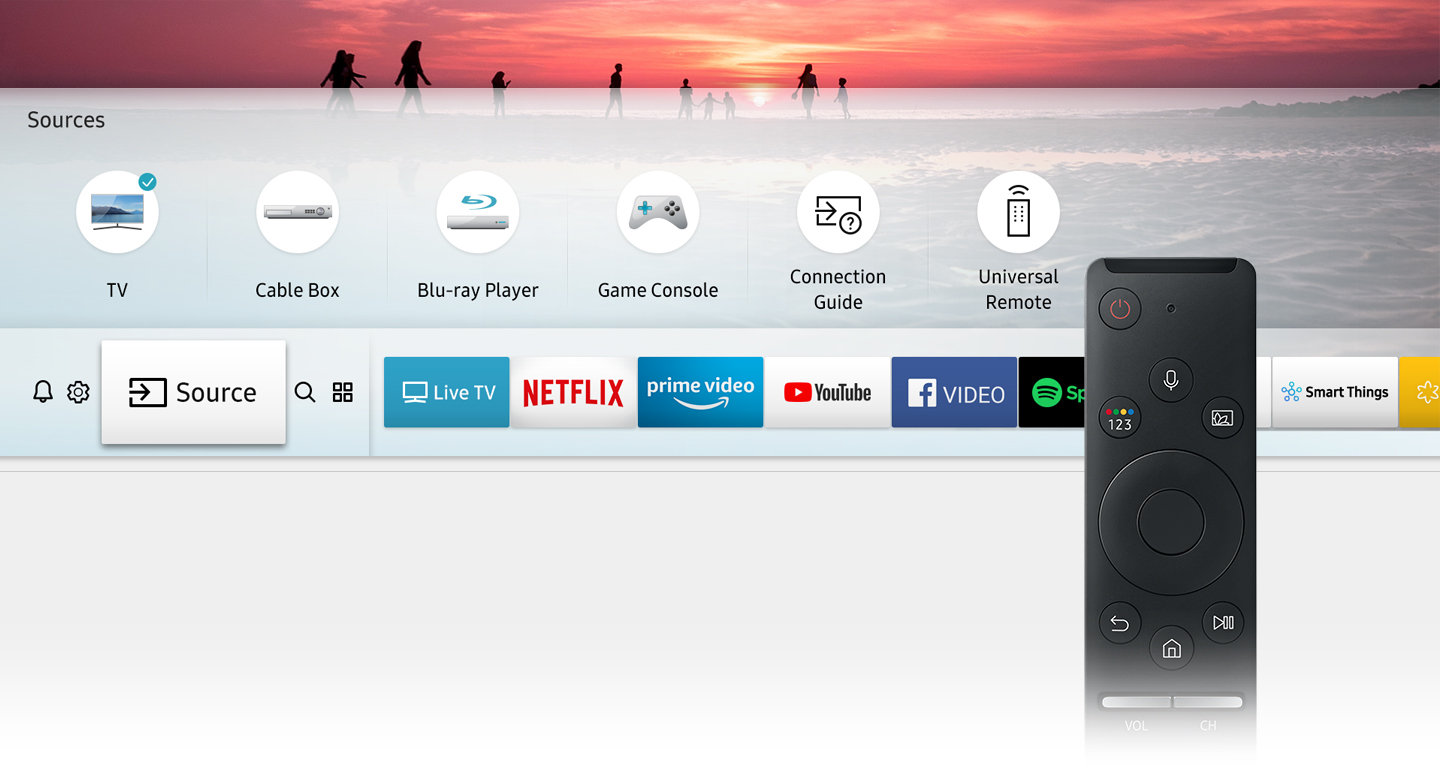 All you need is one
The Samsung OneRemote
OneRemote automatically detects and controls all your connected devices and content.
Search less. Watch more.
Universal Guide
Our Universal Guide brings your favorite content from multiple devices and apps together in one easy-to-browse menu. It recommends popular shows and can even make custom recommendations tailored just for you.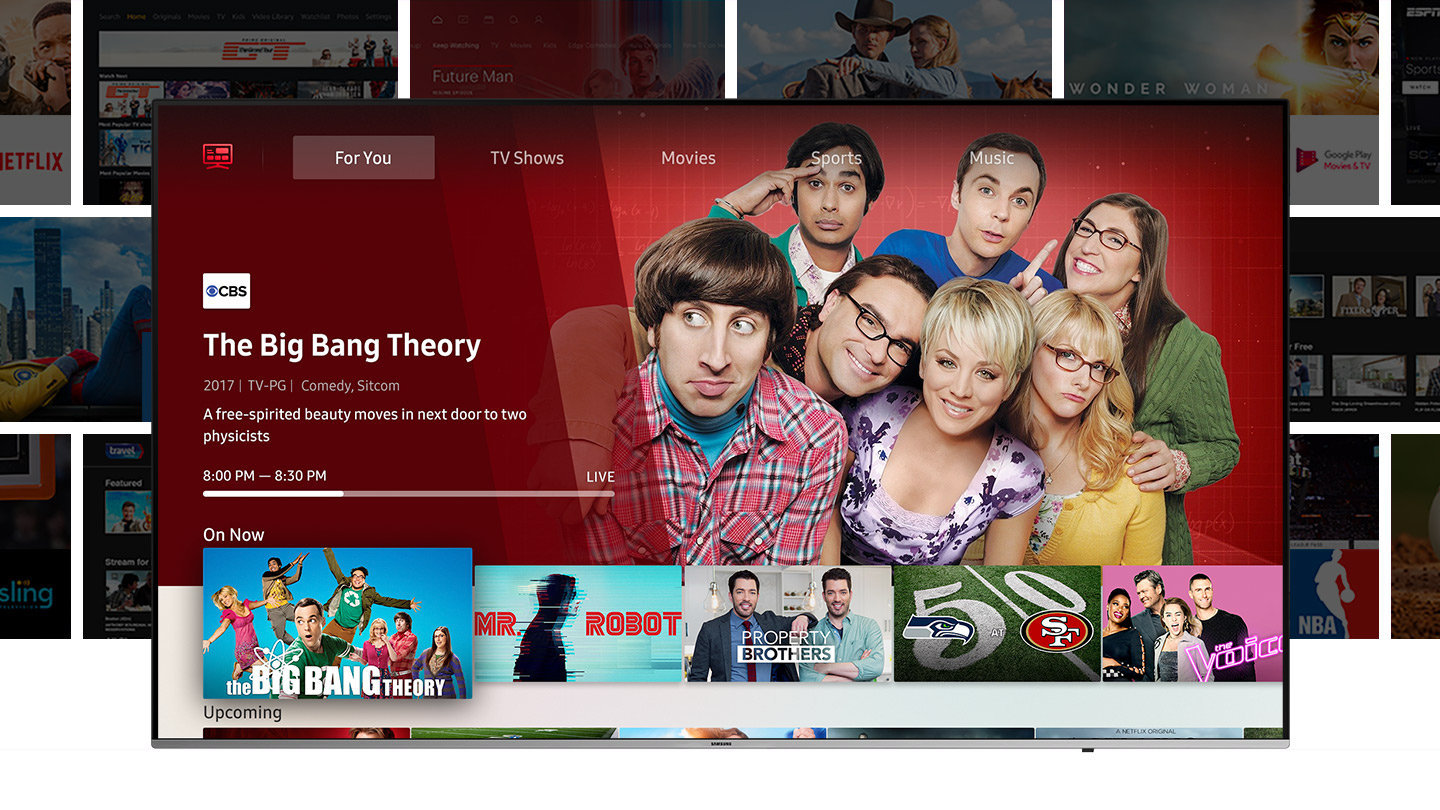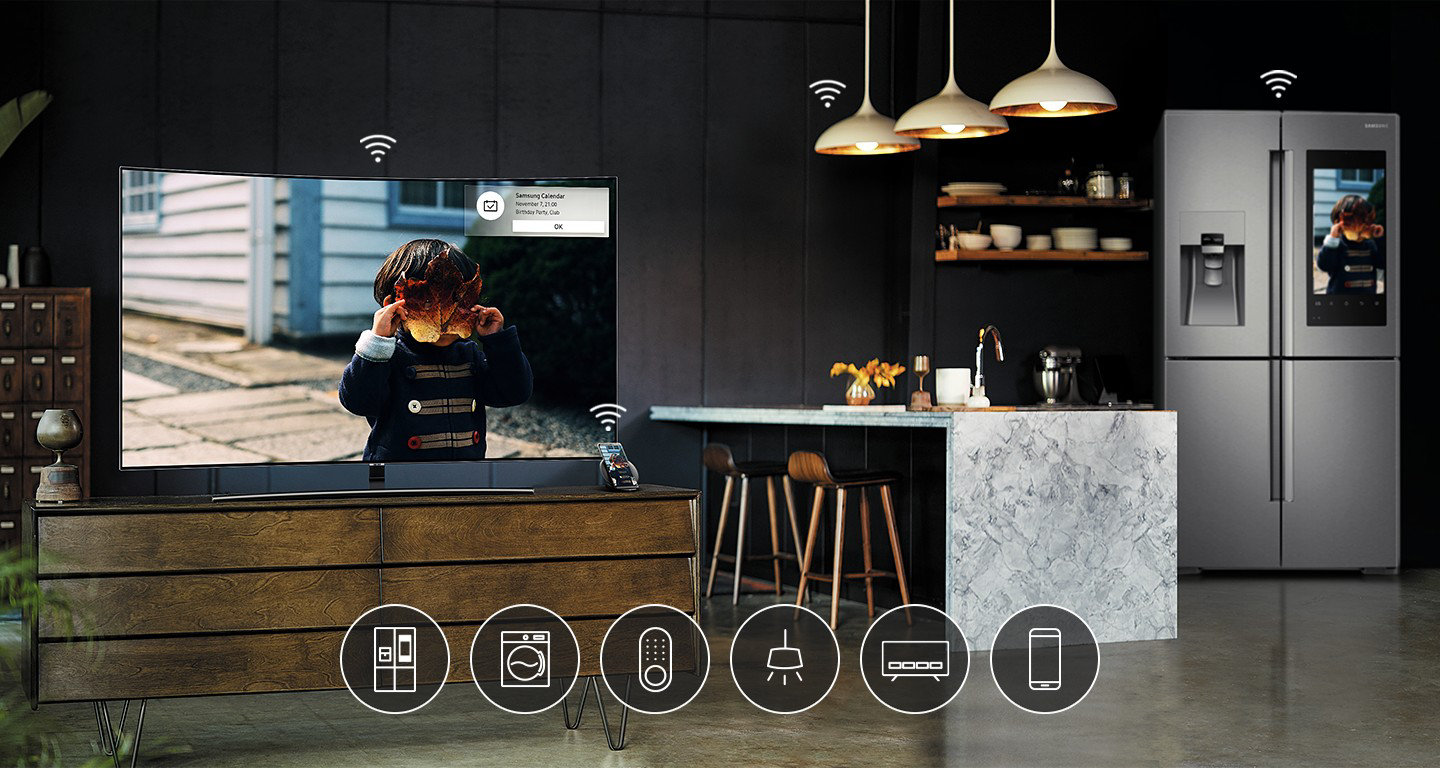 The hub to your home
SmartThings
Experience the truly connected life. Use your TV to connect to a broad range of smart devices and appliances, from your fridge to your smartphone, Change room temperatures, see what's in the fridge or who's at your door — all from the comfort of your couch.
One app. All set to go.
SmartThings app
Have several smart devices to manage? No problem. Simply download SmartThings App on your mobile to control and monitor your new QLED TV and connected devices all in one screen!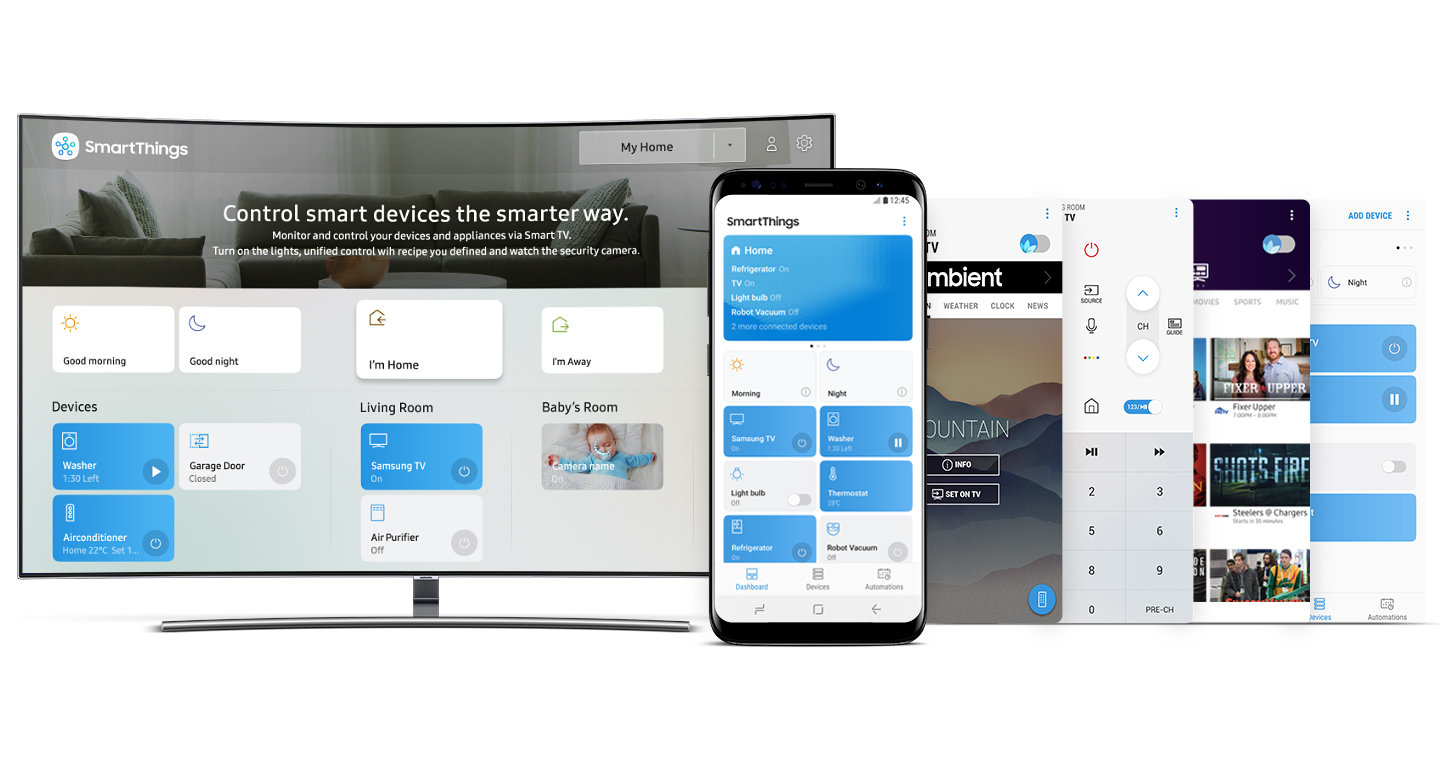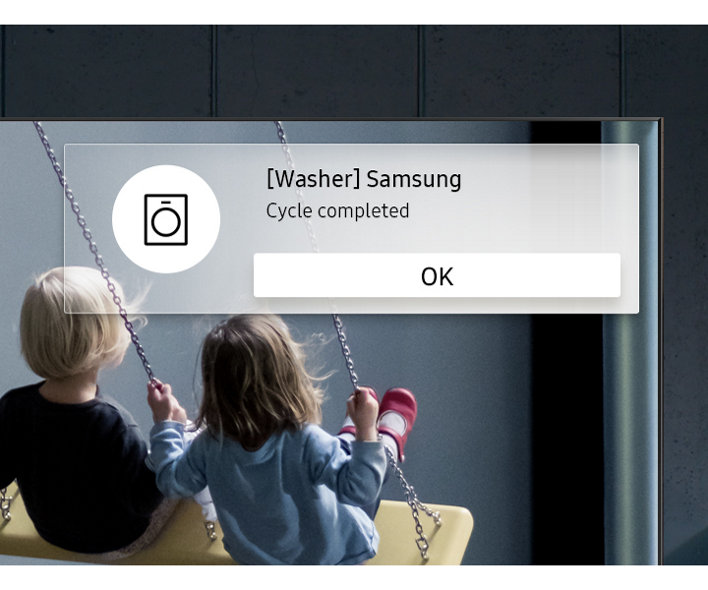 Easy reminders
Notifications
Got laundry on the go? Don't bother getting up to go check the status. You'll get a pop up message on the corner of your TV screen when it's done. Know what's ready when it's ready so you can relax and enjoy your shows without thinking about it.
A world of 4K content awaits
TV Plus
When it comes to movies, spectacular resolution is always a plus. With TV Plus, you're just a few clicks away from a vast library of high-quality 4K UHD and HDR content. Bring the theater home and don't forget your popcorn.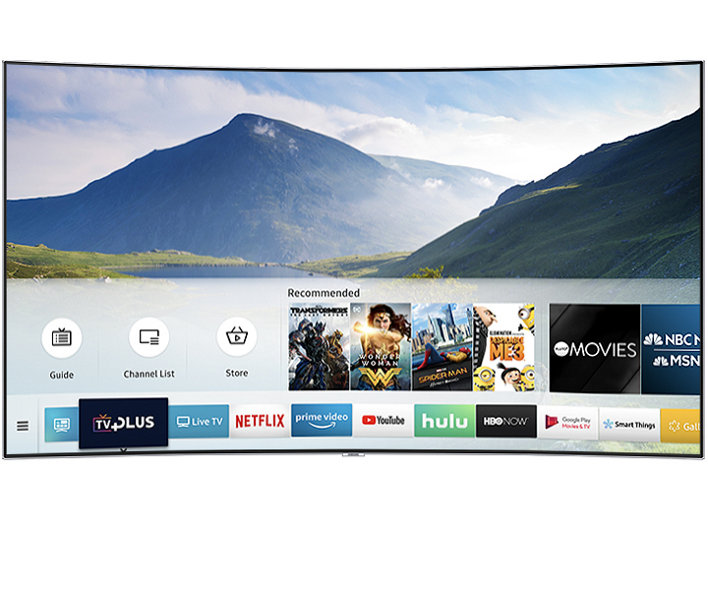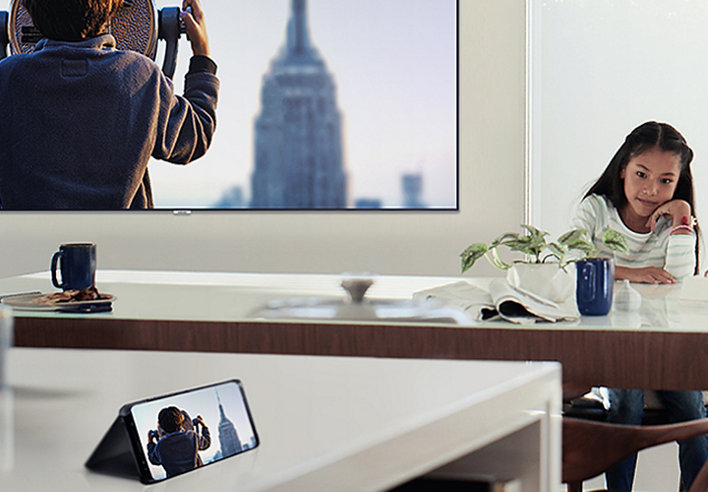 Never miss a moment
Sync & Share
Sync your TV to your compatible smartphone to access and control your content on the big screen.
Plus, continue your entertainment non-stop as you move around the house. Use Sync and Share to connect your smartphone and TV. That means you can still grab your popcorn from the kitchen without pausing or missing a scene.
Gaming outside the box
Steam Link
Enjoy dynamic streaming games on the big screen without a separate set top box. The Steam Link app lets you stream all your favorite games seamlessly with amazing graphics and speed.